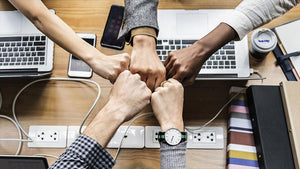 We are Right Here Whenever You Need Us!
We are a team of self-motivated experts in the field of education, finance, psychology, computer programing and cybersecurity. We accepted the challenge to do the impossible for Better Future and Financial Freedom. We Strongly Believe that we (the humans) created Artificial Inelegance to Guide Us and Not to Lead Us because there is nothing more Powerful than Human Intelligence on this Planet.
"Some people call this artificial intelligence, but the reality is this technology will enhance us. So instead of artificial intelligence, I think we'll augment our intelligence." ~ Ginni Rometty
In the end it's all about committing to something greater than ourselves and Working Hard towards Unleashing our Full Potential. Sooner or later you will realize that "our powerful strategy plays an essential role to become a consistent winner and you will need it because the future is unpredictable, let us prepare you to beat the odds while the world is breaking and falling apart into small pieces!"
Contact Us Now!
Truthfully
AI Bankroll
---