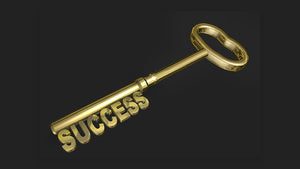 KEY TO SUCCESS!
One morning in Las Vegas, Nevada, we took a Ridesharing from one Casino to another to Test Our Strategy. A driver who identified his ethnicity as an Indian. Shared with us that he came to the county 5 years ago to live an "American Dream". He also shared that "America is a great place to live free and meet great people". He asked us what we do and we mentioned that we are part of a company that engages testing and development to Win Casino Games.

He showed his interest to join the program (which he actually did) and also asked us the "Key to Financial Success". His enthusiasm led us to give him some key points for success; we offer them here so that you might benefit from them, too.

> Have Confidence and Faith in Yourself
> Have a Realistic & Clear Financial Goal
> Stay Patient, Persistent, Disciplined and Humble
> Utilize your Strength & Work on your Areas of Opportunities for Improvement
> Stay away from Negativity
> Take initiative to create parallel / Multiple source of Income (do not depend on one source of income, it's Financially Dangerous!)
> Save (with intention to invest) at least 10% of your monthly income (on Gross not Net)

He was impressed with our conversation and promised (to himself) to follow the guidelines and give life his best shot while preparing for a better tomorrow!

Hope these Key Points Motivated You to be Your Absolute Best to Succeed Financially!

Truthfully
AI Bankroll
---