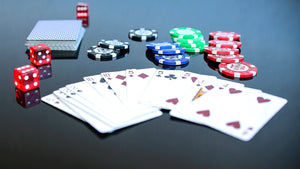 Here's the Reason Why Casinos are Keep Beating You Using "Machine Shuffle"!
Those were the Golden Days when everything was Manually Done Inside Casinos! Those were the Golden Days with Hand Shuffle & No Screens to Display the Results! Those Days Are Gone!
After the MIT Blackjack Team invaded Las Vegas and rest of the word with Millions of Dollars by Card Counting, casinos become very smart and adopted Advance Technology & Artificial Intelligence to protect their establishments. Today the Casino games are extremely hard to win, even if you manage to win some money and don't have a strong "Money Management" in place then casinos will definitely take it back the next day or next visit.
You lose because you think you are playing against the casino but you are actually playing against the computerized shuffling machine that is Powered by Advance Artificial Intelligence. These shuffling machines are complex in nature and designed to exhaust Human Predictions. Whatever you bet on it will always to against You! Only AI Bankroll's Strategy can Help You to Become a Consistent Winner!
Take a Closer Look at the Shuffling Machine Below!
Truthfully
AI Bankroll
---